High-Power Halogen Headlight from Standard Parts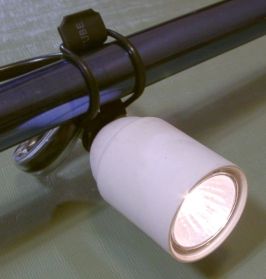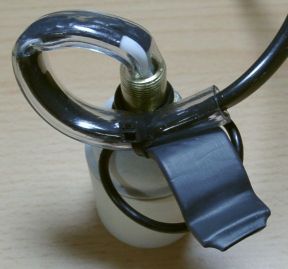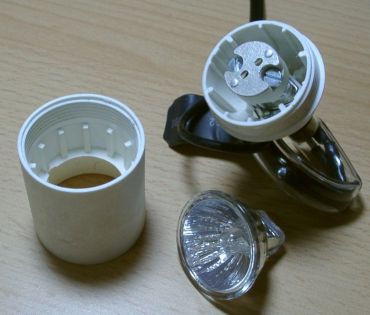 Partlist
Standard bulb socket (E27 Edison screw type) with tubular mounting bolt and nut
Mirror lamp w/ front glass, 35mm diameter, 10 degree angle, 10 - 35 Watt power at 12 Volt (I personally favour 10 deg, 20 W)
Connector for mirror lamp
Two bolts and nuts, 6BA or M3
Some inches of wire
Speaker cable
Piece of hose
Cable tie
O-ring
Sheet metal strip
Heat shrink
12 Volt lead-acid battery (from computer UPS)
---
Preparing the mirror lamp connection and centering
Use 6BA bolts and nuts to center the mirror lamp connector on the tubular mounting bolt. Run the cables of the mirror lamp assembly thru the bolt.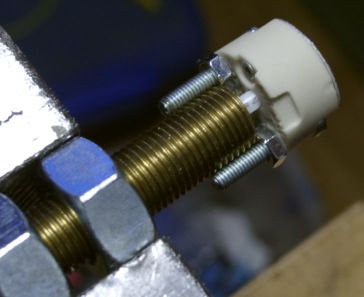 Secure the assembly with wire, then solder it. Photo of tubular bolt held by a vice, ready for soldering: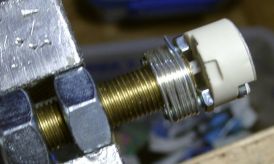 ---
Preparing the E27 bulb socket
Discard internal contact / connection block
On some E27 bulb sockets, need to cut away plastic ribs. Careful, the material is brittle.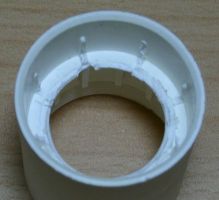 ---
Electrical part
Solder speaker cable to the end of the mirror lamp connector's cable. Isolate by heat shrink. Protect the part where the cable exits the tubular bolt with 3 inches of hose. Attach the open end of the cable to the battery. If desired, add a switch or fuse or both.
---
Mounting bracket
Refer to photo on top of page for an idea on how to shape this. Cover with heat shrink. Use cable tie to secure cable and O-ring to bracket.
---
BACK